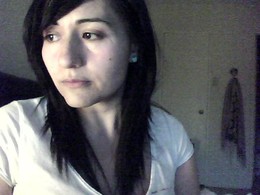 Bio:
A Toronto-based artist, native to Chile who migrated to Toronto in 1977. She studied fine art at OCAD but is mostly self taught. Mediums are watercolor, acrylic and oil.
Her paintings have sold at the Distillery District and more are being displayed at Gallery City Exhibition for Metrolinx Crosstown 2018. Mariana has been profiled in Scarborough Arts' BIG ART BOOK and has her work in the Tridel & Hines Aquavista Bayside collection, part of the ongoing Bayside revitalization project.
SOLO SHOWS
2018 Gallery City Exhibit. Solo show at Granite Brewery, Toronto. 3 month exhibit.
2016 Staircase Showcase. Above Ground Art Supplies, Toronto. April.
GROUP SHOWS
2018 M2 Gallery at Improve Centre Vaughan, Vaughan. 4 month exhibit.
2017 Kingston Art Walk , Upper Beaches Gallery, Toronto. May.
2017 Art in the Park, Harrison Properties, Toronto, June.
2017 Deaf Culture Centre, curated show, Distillery District, Toronto. Sept.
2017 Artscape Youngplace, Sketch Studio, Group Show Dec.
2016 Kingston Art Walk , Upper Beaches Gallery, Toronto. May.
LIVE PERFORMANCES
2018 Art Battle, live painting. Part of Gallery City. Eglinton Town Square, August.
2016 Art Battle, live painting. Part of Scarborough Arts, Art in the Park. August.
COLLECTIONS
2018 Daniels Corporation for Artscape Launchpad Acquisition of: "City Hall Looking through a window' 36"X48"
2018 Metrolinx, Gallery City. Acquisition of: "Safe Descent" Acrylic on Canvas, 25" x 38".
2016 Art Box Toronto. Licensed 3 images.
2015 Aquavista Bayside Toronto Waterfront Corporate Collection. Acquisition of: "Scattered",
Acrylic on Canvas, 50" x 60"
ART EDUCATION EXPERIENCE
2017 Culture Days - September 2017
Created workshop "Mood painting" connecting participants life-experiences result: interactive painting, each persona created individual piece
2010 St Lawrence School - March 2010
Professional drawing classes children with disabilities (7 - 9 years old)
PUBLISHING
2018 Inktober CBC Arts Newsletter. October

2017 Big Art Book Issue 6. Publisher: Scarborough Arts. 3 paintings selected. December.
2017 Distillery District Newsletter. Editor: Keith Veira. Article promoting painting collection.
AWARDS
2018 Start YPA - "Through Your Lens" photo contest. Best Photo Award
EDUCATION
2006 OCAD - Fine Art
ADDITIONAL TRAINING
2016 Printmaking Course - Scarborough Arts. June.
WORK EXPERIENCE
2009 AGO. Information Staff for Catherine the Great Exhibit.
1993 - 1994 The Bata Show Museum. Cataloging Coordinator for: Celebrity shoes (Elton
John), 18th Century Mules from China, and Native American Moccasins.
P: (416)556-6174
EMAIL: onem@hotmail.com

INSTAGRAM: Weforgotlilacs
Twitter: Mariana_ArtsTO

.
marianahernandez.crevado.com